This is my cleaned-​up home­made ver­sion of how to make the pop­u­lar Ribena black­cur­rant syrup. I sure have enough black­cur­rants to go around! If you asked where we were last week, chances are it was in the yard pick­ing them. Hard work, let me tell ya! We didn't weigh the result, but I think it came to about 15lbs — that's a lot of hunch­ing over and pick­ing! The berries are way too tart to eat, but make great jam, or syrup, that's exactly what I did!
We always had Ribena in the fridge in my parent's house, and some bot­tles found their way into my cur­rent fridge by way of my mom. Since I have all these black­cur­rants, I can make my own, and with­out any arti­fi­cial preservatives.
Here is what you do. Pour your black­cur­rants into a sink filled with water. This will make all the impu­ri­ties, leaves, and stray spi­ders, etc… rise to the sur­face. Skim them off, then drain the water. Trans­fer the black­cur­rants into large cook­ing pots, fill­ing about 3/​4 of the way up. Don't worry about the lit­tle twigs and papery ends on the berries, because it will all get sieved.
Con­tinue Read­ing…
#cleaneat­ing now faints:
Yes, sugar, lots. If you have the means, feel free to sub­sti­tute coconut palm sugar, sucanat, or rapadura, all of which are great unprocessed white sugar alter­na­tives that you can swap on a 1:1 ratio. You can also use honey, but keep in mind that it doesn't have the same thick­en­ing prop­er­ties and the syrup would be very runny, more like juice.
Black­cur­rants are very tart, so you def­i­nitely need a sweet­en­ing agent, but not just for taste. Sugar also acts as a preser­v­a­tive by lit­er­ally suck­ing mois­ture out of microbes. This will make sure you can store the syrup in the fridge for weeks. I give a rough guide­line for how much sugar you need in the recipe, but the rule of thumb is to use less and add more as you taste test to make the black­cur­rants palat­able. It's always eas­ier to add than sub­tract later.
Now the siev­ing. See, I told you not to worry about stray twigs and ends on the black­cur­rants — after you cooked down the fruit and sugar mix­ture and it cools a bit, you sieve it through. The more vig­or­ous you are, the more fibre will sieve though, mak­ing the syrup richer and tastier. So put your arm into it!
End result: LOTS of black­cur­rant syrup. This is not a small bowl, about 5 litres:
Now how to store all this. I have more than I will use in the next few weeks, so I poured off a small batch into jars for imme­di­ate use/​gifts, and poured the rest into freezer bags. You can also freeze in plas­tic con­tain­ers, but remem­ber to leave enough space at the top for expansion.
Note: It's a good idea to steryl­ize your jars with boil­ing water prior to use. It will make them very hot… so what­ever you do, don't cool them down with cold water. This makes them ker­plode. I know how stu­pid it sounds, but that's pre­cisely what I did. I just shake my head!!!
Pretty syrup in the only jars I had left: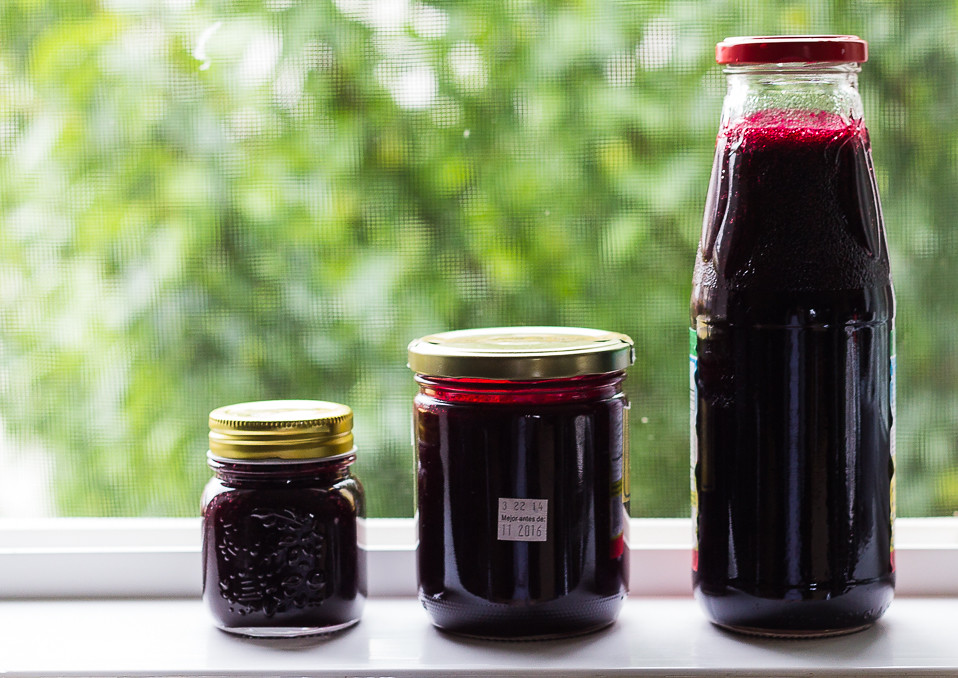 Com­ments, ques­tions? Let me know and I'll do my best to answer.
How to Make Your Own Black­cur­rant Syrup (Ribena)
Author:
Aleks @ Canuck​Cui​sine​.com
Serves:
Makes approx 750ml syrup
Ingre­di­ents
1lb black­cur­rants
½lb white sugar, or alter­na­tives: coconut palm sugar, sucanat, or rapadura (use slightly more, or less sugar accord­ing to your taste)
1 cup of water
Instruc­tions
Pour the black­cur­rants into a sink filled with water and skim off impu­ri­ties like leaves and float­ing twigs, then drain the water. Trans­fer the black­cur­rants into large cook­ing pots, fill­ing about ¾ of the way up. Pour in the sugar and water and mix. Set the heat on medium and cover. Cook for 5 min­utes, then reduce the heat to low and sim­mer for another 10 min­utes, until all the juices run.
Remove from heat and let cool enough to han­dle com­fort­ably. Pass the mix­ture though a fine mesh sieve into a large bowl. Pour into steryl­ized bot­tles, or freeze in plas­tic bags, or con­tain­ers for later use.
Will keep in the fridge for 2 – 3 weeks. Use frozen syrup within 3 months.
To serve, dilute the syrup in water, to taste.